Overview
Ordisoftware™ Hebrew Calendar is a libre and open-source software written in C# that allows to generate a daily calendar based on the lunar cycle in order to determine the new year and the celebration times according to the hebrew Torah.
Functionnalities
Generate a calendar with sun and moon rises and sets.
Create a tabular text report.
Search for a day in the database.
Save the report to a text file.
Save data to CSV file.
Copy the report to the clipboard.
Visualization of the data in a grid.
Popup box from the tray icon displaying the day data.
English, French.
Download
Works under Windows Vista x32/x64 or superior.
Requires the Framework .NET 3.5.
Requires SQLite ODBC Driver.
C# source code included.

Hebrew Calendar 1.2 (3.6 MiB)
Screenshots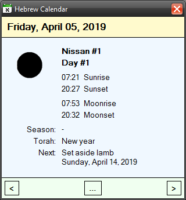 Video
Frequently asked questions
How to install SQlite ODBC Driver?
What to do in case of ODBC datasource connection error?
The setup tries to register an ODBC DSN to the registry but in case of problem run "C:\Program Files\Ordisoftware\Hebrew Calendar\Register ODBC.reg" or open the ODBC datasource manager (Admin tools in Windows' Control panel) and create a user datasource named "Hebrew-calendar" for "SQLite 3 ODBC Driver" with "Database Name" sets to:
"%USERPROFILE%\AppData\Roaming\Ordisoftware\Hebrew Calendar\Hebrew-calendar.sqlite"
Watch the video.
How to get latitude and longitude?
They can be found using an online service.
Changelog
1.2 - 2019.01.18
Add celebrations window.
Improve navigation window.
Improve preferences window.
Some bug fixes.
1.1 - 2019.01.17
Report is no more generated at every startup.
1.0 - 2019.01.14
More information