Overview
Ordisoftware™ Hebrew Calendar is a libre and open-source software written in C# that allows to generate a calendar based on the lunar cycle in order to determine the new year and the celebration times according to the Hebrew Torah, as well as to remind Shabbat and Pesach, Shavuot, Rosh Hashanah, Kippour and Sukkot festivities.
Functionnalities
Generate a calendar with sun and moon rises and sets.
Tabular text report, month or grid view.
Event reminder for shabat and celebrations.
Search for a day in the database.
Window listing annual celebrations.
Print the month view.
Copy the report to the clipboard.
Save the report to a text file.
Export data to CSV.
Navigation by day window from the Tray Icon.
English, French.
Review
Softpedia.com
"Efficient and intuitive calendar and reminder app for the Hebrew Torah"


Download
Works under Windows Vista x32/x64 or higher
Screen 1024x768 or higher
Requires the Framework .NET 4.5
Requires SQLite ODBC Driver
C# source code included
Kaspersky Antivirus and VirusTotal.com verified

Hebrew Calendar 3.10 (16.3 MiB)
Screenshots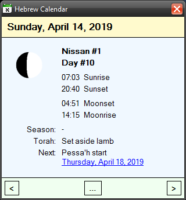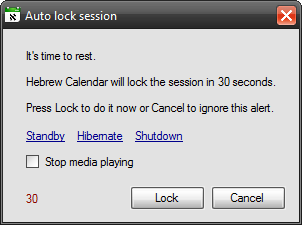 Videos
Frequently asked questions
How to install SQlite ODBC Driver?
The setup tries to install:
What to do in case of ODBC datasource connection error?
The setup tries to register an ODBC DSN to the registry but in case of problem run "C:\Program Files\Ordisoftware\Hebrew Calendar\Register ODBC.reg" or open the ODBC datasource manager (Admin tools in Windows' Control panel) and create a user datasource named "Hebrew-calendar" for "SQLite 3 ODBC Driver" with "Database Name" sets to:
"%USERPROFILE%\AppData\Roaming\Ordisoftware\Hebrew Calendar\Hebrew-calendar.sqlite"
Watch the video.
What is Shabat?
It's the "day of rest" where one do not work for a livelihood and where there is no creative activity. Unless there is a vital emergency, the body, the emotions and the spirit are resting there. The study of the Torah is a privileged activity. Tradition attributes this day to Saturday. We can however think according to Béréshit 1.1 that in the case where the first day is the day of birth as a corollary to the fusion of the gametes then it takes place the day before: thus a person coming to the world on a Sunday will have his Shabat the Saturday. From Béréshit 1.5 and 1.16 as well as from Shémot 20.8 it can be deduced that it lasts from sunset on the eve of the calendar day to sunset on the same day. For example, for a person born in Paris, the Shabat of February 19, 2019 takes place from Friday 18 at 17:25 to Saturday at 17:25 approximately.
The personal shabat of a maried/concubin/divorced man is the previous day of the birth. A son follows his father's shabat. The shabat of a woman is the shabat of her father or her husband/concubin. So the man and the woman respect their mutual cycles. If the man were born between midnight and the sunset, the shabat is the day before. Between sunset and midnight, the shabat is that day. If you prefer to use the traditional group shabat, select for example Saturday for Judaism, Sunday for Christianity or Friday for Islam.
What are the times of celebration?
These are Pesa'h or Easter which is the liberation of illusions, Shavuot or Weeks which is the gift of knowledge, Teruah or Ringtone which is the joy of being freedom, Kipurim or Atonement which is the sorrows of losses, and Sukot or Tabernacles which is the construction of the future. These are important moments of the lunar year in the solar cycle whose purpose is to provide a benevolent evolution of consciousness by the knowledge of the laws of the universe and of life. The Torah says to count these days according to the moon, as opposed to Shabat which is counted according to the sun.
The application uses by default moon omer for celebrations. If you use moon omer then celebrations dates will be calculated according to seasons and there will be an inversion between north and south hemispheres. In this case, a day is from one moon set to the next set. You can use traditionnals sun days by modifying the option in the reminder, hence celebrations will be same in north and south. In this case, a day is from one sun set to the next set.
Keyboard shortcuts
Ctrl+Tab : Change view
Ctrl+T : Go to today
Ctrl+D : Search day
Ctrl+E : Search celebration
Ctrl+M : Search lunar month
Ctrl+N : Open navigation window
Ctrl+P : Print month view
Ctrl+C : Copy report to clipboard
Ctrl+S : Save report to text file
Alt+S : Save report to CSV file
F2 : Generate calendar
F8 : Preferences
F11 : Help
F12 : About
Escape : Close window
Changelog
3.10 - 2019.11.12
Change dependency AAPlus for AASharp.
Improve data generation to show all warnings.
Fix data generation for south hemisphere for the last year when using moon omer.
3.9 - 2019.11.11
Add shutdown, hibernate and standby actions to auto lock session dialog box.
Add option to stop current media playing to auto lock session dialog box.
3.8 - 2019.11.04
Add option to auto lock session during shabat and celebrations days.
3.7 - 2019.11.01
Update current day highlighting when passing midnight.
Fix first day of month not highlighted like other days.
Fix sun rise and set on the first day of daylight saving time that was shifted by one day in the previous version.
Fix the reminder that sometimes does not work anymore after a while if screensaver or fullscreen mode has been detected.
Code refactoring.
3.6 - 2019.10.21
Add time zone setting to have good sun and moon rise and set

in the whole world

.
3.5 - 2019.10.21
Improve personal shabat setup by asking birth time.
Improve min and max years that can be generated (up to 2198).
Improve reminder to change the window color when just passing the start date without waiting the remind delay.
Add Ctrl+T shortcut to go to today.
Add option to define the delay to open the looming navigation popup.
Some improvments.
Some fixes.
Update help.
3.4 - 2019.10.19
Improve celebration and lunar month finder.
Improve select city window.
Change exit button now doesn't shutdown app but minimize to tray icon.
Fix cities names having special diacritics.
Fix lunar month's first day duplicated if no moon rise on the next sun day.
3.3 - 2019.10.18
Improve UI.
Some fixes.
Some code refactorings.
Setup install SQLite ODBC Driver if not present.
3.2 - 2019.10.17
Add search month window.
Fix soukot sun omer date.
Fix calendar generated only for north hemisphere if moon omer.
Some code refactorings.
3.1 - 2019.10.16
Add option to choose between sun or moon day count to determine celebrations to allow a more traditional use.
3.0 - 2019.10.14
Improve the reminder to remind during the celebration day like with the shabat day.
Improve the reminder to flash the form if already displayed.
Improve reminder boxes location on the desktop.
Improve session ending.
Add loading data box instead of using a bottom progressbar.
Add displaying begin and end dates and times in the celebration reminder form like with the shabat.
Add looming navigation popup from the tray icon when mouse is over.
Add celebration weeks, shabat days and reminders popup colorization.
Add check end of calendar to automatically regenerate it.
Add option to choose language.
Add world cities GPS database.
Improve UI.
Improve speed.
Update help.
Some code refactorings.
2.4 - 2019.09.19
Add option to disable startup check update.
Some code refactorings.
2.3 - 2019.09.15
Fix starting form location.
2.2 - 2019.09.10
Reminder is disabled if fullscreen or if screen saver is active.
2.1 - 2019.09.04
Improve shabat reminder.
Update controls tabs.
2.0 - 2019.08.26
Change shabat reminder.
Reorganize settings form.
1.10 - 2019.08.25
Add colors parameters for calendar month view.
1.9 - 2019.08.24
1.8 - 2019.05.22
1.7 - 2019.04.25
1.6 - 2019.04.08
1.5 - 2019.01.28
Change current day color in month view.
Some code refactorings.
Some improvments.
1.4 - 2019.01.21
Add an event reminder.
Add help file.
1.3 - 2019.01.20
Add an option for the Tray Icon mouse click.
Add an option to show/hide the main form at startup.
Add a month view.
Add a print menu.
Improve the grid view.
1.2 - 2019.01.18
Add a celebrations window.
Improve the navigation window.
Improve the preferences window.
Some bug fixes.
1.1 - 2019.01.17
Report is no more generated at every startup.
1.0 - 2019.01.14
More information